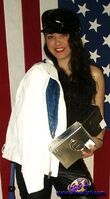 Sioux "UnrealGrrl" Blue ("NyGrrl") is a Voice Actor who has created several voicepacks for all Unreal Tournament Games as well as voice acting for Operation: Na Pali and the Feel Unreal Movie Series. In 2004, she won 1st place in the "Best Voice Pack or Audio Modification" section in the Make Something Unreal Contest.
Ad blocker interference detected!
Wikia is a free-to-use site that makes money from advertising. We have a modified experience for viewers using ad blockers

Wikia is not accessible if you've made further modifications. Remove the custom ad blocker rule(s) and the page will load as expected.